Frequently Asked Questions - FAQs
School opening and closing times
School starts at 9:00am and finishes at 3:15pm.
Playtime: 10:30am-10:45am P1-P3/4
Playtime: 10:45am-11:00am P4-P7
Lunchtime:12:15pm-1:15pm
School Dinners
At lunchtime, pupils can choose to go home lunches, bring a packed lunch or have a school dinner.
School Dinners cost £2.25per day.  Thismust be paid online through Parent Pay. Children can pre-order a lunch at home through Parent Pay. Menus are updated regularly by Tayside Contracts and can be viewed on Parent Pay.
Free school meals are available to all pupils in Primary 1-5.
From Primary 6 onwards, free school meals are avaiable to pupils whose parents are in reciept of Income Support, Income based Job Seekers Allowance, Income related Employmeny and Support Allowance, Support under Part VI of the Immigration and Asylum Act 1999, Guaranteed Pension credit, or in receipt of Child Tax Credit only and have an annual income or less than £16,010 or Working Tax Credit and Have an annual income of less than £6420. Applications forms are online at https://mydundeeaccount.dundeecity.gov.uk/secure-info
If your child has any allergies or dietary requirements, please contact the school directly.
School Uniform
There is an expectation for all pupils to wear the correct school uniform. This helps us in our aim of encouraging children to take a pride in their appearance and to have respect for their school.
The uniform consists of:
Black school trousers, skirt or pinafore.

Red jumper*, sweatshirt* or cardigan*.

School tie* - All pupils are gifted a school tie when starting at Camperdown. If you require another tie, these can be purchased for £5 from the school office only.

White shirt or polo shirt*

Black shoes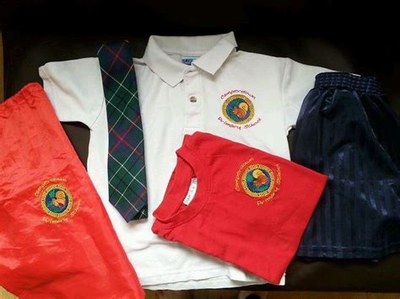 Gym Kit
Shorts*
T-shirt*
Indoor gym shoes
Please note that football strips are not to be worn.
All items marked with a * can be ordered with the Camperdown badge from the school office. Coats, jackets and gym bags with the school badge can  also be purchased.
If you are entitled to a school clothing grant you can obtain an application form from the School Office, Dundee House or the Dundee City Council Website please see the link below:
Application forms can be submitted online - School Clothing Grant Application Form
How do I make an appointment to see my child's teacher or School Leadership Team?
If you wish to meet with a member of the Senior Leadership Team (Head Teacher or Depute Head Teacher) please contact the school office via email, telephone or in person and we will arrange a mutually agreeable time.
Should you wish to make an appointment to meet with your child's teacher you can talk to them at the end of the school day or write a note in your child's home school diary to set a mutaully agreeable time. Alternatively contact the school office who will arrange one for you.
For details of contact information please see the Contact tab at the top.